Matisyahu's Moving Duet with Young Cancer Patient (6-Minute Video)
Last week singer Matisyahu performed a duet with a very special onstage guest– young Camp Simcha cancer patient Luke Weber. It appears that Chai Lifeline organized this dream-come-true for young Luke. Luke's mother, Eliza Weber, recently expressed her gratitude to the Chai Lifeline volunteers for the huge difference they have made in her son's life, "They continue to amaze me," she said. "It is because of them that Luke is not a victim of cancer. He is the happiest, most cup-half-full kid we know."
How inspiring, how emuna-strengthening, to here this young cancer patient singing, "sometimes in my tears I drown, but I never let it get me down, so when negativity surrounds, I know some day it'll all turn around…" I rewinded the song over and over to listen to Luke singing that line, tears streaming from my eyes, and a new spark of hope in my heart for Nachlaot.
A huge yasher koach to Matisyahu and huge refuah shlema to Luke! And a big thanks to All Victories Chaya Houpt for sending this my way…
A side note: Some eyebrows raised over here at JewishMOM.com to see that Matisyahu's beard has returned. What was all of that twitter hullabaloo from a few weeks about after all?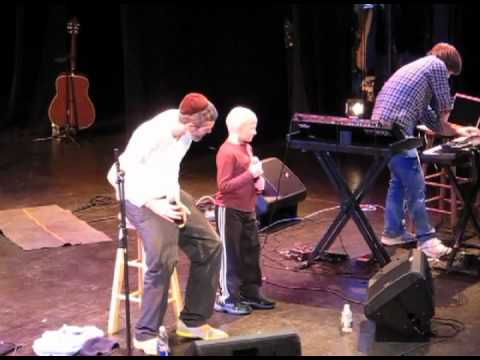 One Day Lyrics
sometimes I lay
under the moon
and thank God I'm breathing
then I pray
don't take me soon
cause I am here for a reason
sometimes in my tears I drown
but I never let it get me down
so when negativity surrounds
I know some day it'll all turn around
because
all my life I've been waiting for
I've been praying for
for the people to say
that we don't wanna fight no more
there'll be no more wars
and our children will play
one day x6
it's not about
win or lose cause
we all lose
when they feed on the souls of the innocent
blood drenched pavement
keep on moving though the waters stay raging
in this maze you can lose your way (your way)
it might drive you crazy but don't let it faze you no way (no way)
sometimes in my tears I drown
but I never let it get me down
so when negativity surrounds
I know some day it'll all turn around
because
all my life I've been waiting for
I've been praying for
for the people to say
that we don't wanna fight no more
there'll be no more wars
and our children will play
one day x6
one day this all will change
treat people the same
stop with the violence
down with the hate
one day we'll all be free
and proud to be
under the same sun
singing songs of freedom like
one day x4
all my life I've been waiting for
I've been praying for
for the people to say
that we don't wanna fight no more
there'll be no more wars
and our children will play
one day x6
Related posts: